Wide range of applications
Weicon Tools Wire Stripper No. 5 Pro
The tool manufacturer Weicon Tools has developed a new wire stripper that covers a large working range and can be used in a wide variety of applications – the Wire Stripper No. 5 Pro.
Wire Stripper No. 5 Pro
The automatic wire stripper can be used for stripping all common stranded and solid conductors of 0.2 to 16 mm². An adjustable length stop from 5 to 25 mm enables very precise and accurate working. The length stop can be removed, if required. The wire stripper automatically adjusts to the required conductor cross-section – so no manual adjustment is necessary. The stripping tool features an integrated side cutter, which is suitable for conductors made of copper and aluminium up to a diameter of three millimetres. Thanks to the slim design of the tool, the stripper can also be used in working areas that are difficult to access, such as in switch cabinets. The mechanics of the stripping tool are very smooth-running and have proven to be durable and reliable in numerous tests. More than 150,000 stripping operations on PVC cables with 1.5 mm²/AWG 16 were carried out without affecting the mechanics of the tool. The inner blades of the wire stripper can be replaced and all blades are galvanised.
Wide range of applications
The Wire Stripper No. 5 Pro was developed for industrial applications and is also suitable for use in the skilled trades. The tool can be used in various areas of industrial manufacturing – whether it is in the wiring of control cabinets, in electrical installation or in home technology.
Ergonomics and safety
During the development, ergonomics and intuitive handling were taken into account in addition to user-friendliness. The wire stripper has a non-slip multi-component handle in the blue-red "Ice Crack" design. The ergonomic handle shape ensures a safe grip of the tool and enables fatigue-free working. Another important safety aspect is that the blades are located inside the tool. This reduces the risk of injury significantly. In addition, the tool has a locking mechanism for space-saving storage. The wire stripper has an eyelet to attach a strap for fall protection and is equipped with a labelling surface to be able to individualise the tool.
Made in Germany
As is usual with Weicon Tools, the wire stripper is developed and manufactured entirely in Germany. The production of the tool made of robust fibreglass-reinforced polyamide is located in Ascheberg, Westphalia, and the steel for the blades comes from Solingen. The automatic wire stripper has the GS quality seal by the TÜV NORD and was tested in terms of all aspects of occupational safety. The tool is 160 mm long, weighs 141 grams and is supplied in a recyclable cardboard packaging.
461 words
59 rows
2775 signs (incl. blanks)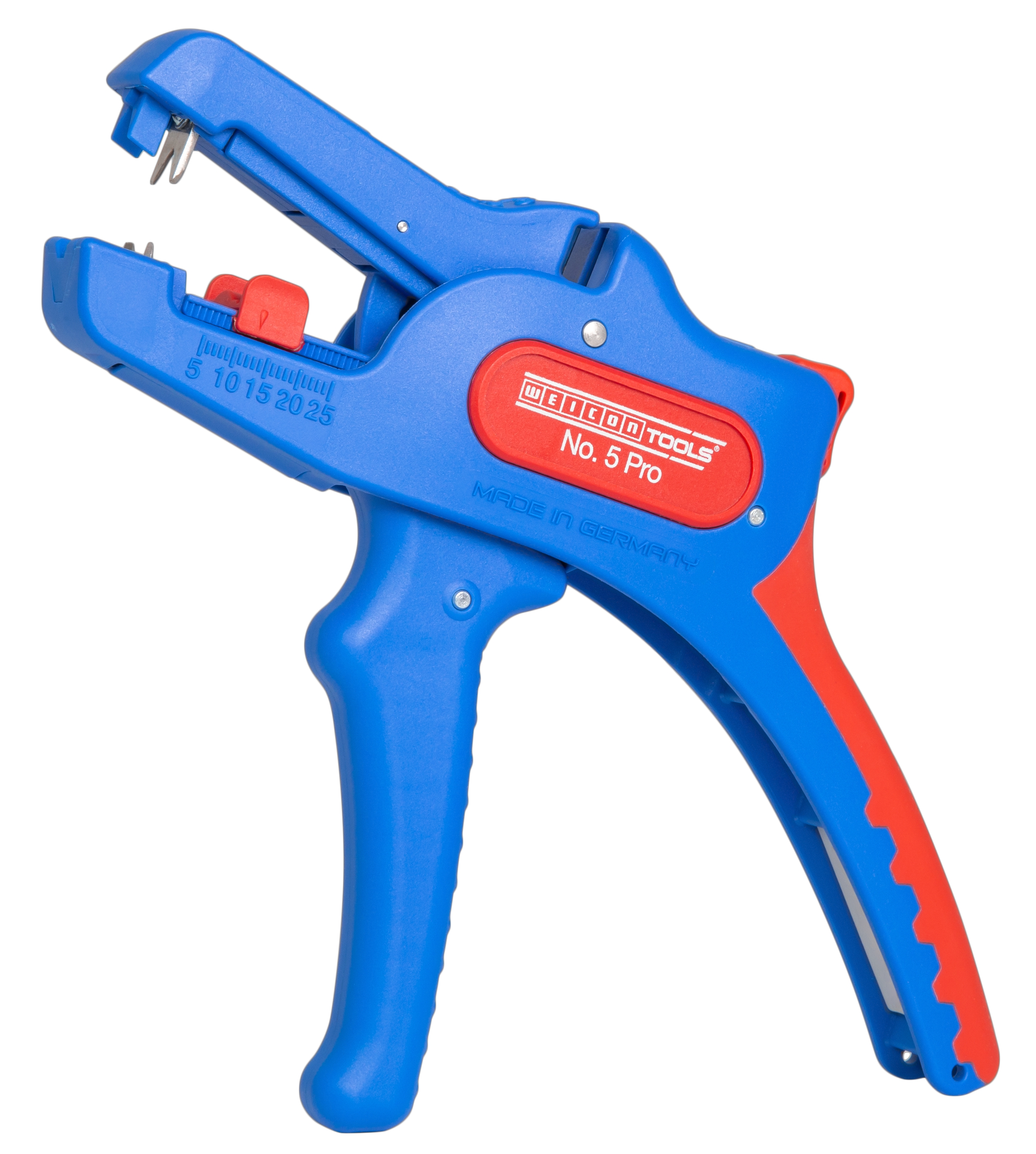 moorl-magazine.commentAreaDisabled